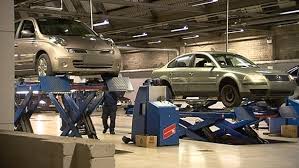 NCT Faulty Lifts
The NCT has suspended the use of lifts at its 47 test centres around the country due to concerns over cracking.
Inspections have been taking place in recent days after "signs of cracking" were found in almost 50 lifts in the North.
The same company supplies lifts in the Republic of Ireland and an initial inspection by the NCT has found cracks in one lift.
It has now ordered their use be suspended and a full audit take place to establish the extent of the problem.
Drivers due for an NCT will still be able to take two-thirds of the test, but will have to return and take the final part once the issue has been resolved.
In a statement on its website, NCTS said: "NCTS have made the decision to discontinue the use of vehicle inspection lifts across the NCTS network with immediate effect until a full condition survey of all lifts is completed."
"NCTS were recently made aware of a defect with a similar make and model of MAHA lift. Following that information, condition surveys have been instigated."
The statement continues: "All customers should continue to book and turn up for their NCT as normal.
"The test will be completed with the omission of the underbody inspection, which will be conducted at a later date when the lifts are returned to use."
"Customers will incur no additional costs as part of this process."
"Our priority at this point and time is for the safety of our staff and our customer's property. We do sincerely apologise for any inconvenience this may cause."
Insurance
Insurance Ireland has reiterated that the issues with the NCT process will not impact policy holders motor insurance.
"Insurance Ireland members will be pragmatic and understanding in their approach to this issue," it said.
Insurance Ireland represents 95% of the insurance industry here.
An Garda Síochana
An Garda Síochana has advised motorists who can not get an NCT cert because of the suspension of the use of vehicle testing lifts to carry with them a copy of the Vehicle Inspection Report issued by the NCTS after they have completed the partial test.
In a statement, it said the report should be presented to gardaí if required to do so.
NCT
General Manager of the NCT Grant Henderson said inspections will not be carried out in full until all checks are carried out on the scissor lifts at the 47 testing centres.
Mr Henderson said that it is difficult to estimate how long it will take to repair the lifts and that it will vary from centre to centre.
He said that repairs will "depend on the severity of the defects".
He said that they may require a simply strengthening weld, or it could be the replacement of an element, or a full replacement of a lift.
Surveys of these lifts will be completed by the end of next week, he said.
When asked why the defects weren't found sooner, Mr Henderson said the NCT is investigating with "various entities" why it wasn't picked up before now.
The advice for motorists is to prepare their vehicles for the test by having it inspected and serviced as normal. Mr Henderson said that motorists should book and present for their NCT, upon which they will be provided with a report. Once a full inspection is carried out, a full certificate will be issued.
The Road Safety Authority has said it has engaged with NCTS contractor Applus and said it is expected that some lifts will "come back on line shortly".
It said Applus was working to resolve the issue as a matter of urgency.
In a statement the RSA said: "as an interim measure, a Vehicle Inspection Report will be issued in the normal way following a test. While it will indicate the result as a 'Fail' it will clearly indicate 'No lift inspection done' in relation to Stage 3 of the test dealing with the visual inspection of the underbody."